The Best free WordPress Templates: In this blog post you will know The 10+ Best Free WordPress Responsive Themes 2020 was created at the time as a CMS focused on blogs, but it has rained a lot since its inception and now dominates 23.4% of all the world's websites.
One of its features that make it so popular are themes, commonly known as templates.So much popularity has led to around 1,653 free templates in the official WordPress repository. there are so many templates … What are the best WordPress templates for my website? Do not worry, you will not have to put to investigate or try all those templates until you get the right one, because I offer you the 10+ Best Free WordPress Responsive Themes 2020 and ready to Download.
Perfect for online stores
Created by Automattic, the company behind WordPress.com
Zeen and minimal design
Possibility of payment extensions
It works as a framework. Add child themes and the web will change completely
Light
Woocommerce compatible (obvious, right?)
Perfect for SEO
Responsive
Storefront is the theme par excellence of Woo-commerce and has been created by the same company as this great e-commerce plugin. You could say they are the perfect match.
Blockchain Lite is a free WordPress template with a paid version – Blockchain, oriented to business websites based on bockchain, cryptocurrencies, Bitcoin, Ethereum, Litecoin, ICOs, Altcoins, cryptocurrency investment agencies, cryptocurrency trading, etc.
Blockchain Lite is 100% compatible with the powerful Elementor Page Builder page generation plugin. Which will help you create the website of your dreams through a drag-and-drop graphical interface. It comes with 80+ customization options, supports unlimited color schemes without touching a single line of code, your code is optimized for search engines (SEO). And also, it integrates with the extension for multi-language WPML sites.
This template is ready to be translated into another language through specific files. In its premium version it supports the free add-on for Woo-commerce online stores. It comes with complete documentation. Offer continuous updates.
Light

Highly configurable

Possibility of the premium version

It has a whopping 1,221425 downloads

Its philosophy is similar to that of Genesis: they seek to make the topic light and fast, without the addition of additives that harm the loading speed.

Type selection

SEO optimized

8 areas to add widgets

Woocommerce compatible

Perfect for both blog and corporate website

Responsive
GeneratePress is a very good free theme, we could almost say the best. Its philosophy is very similar to that of Genesis Framework: clean and well-structured code, very good loading speed, highly configurable … And it has the premium option, which includes many configuration options.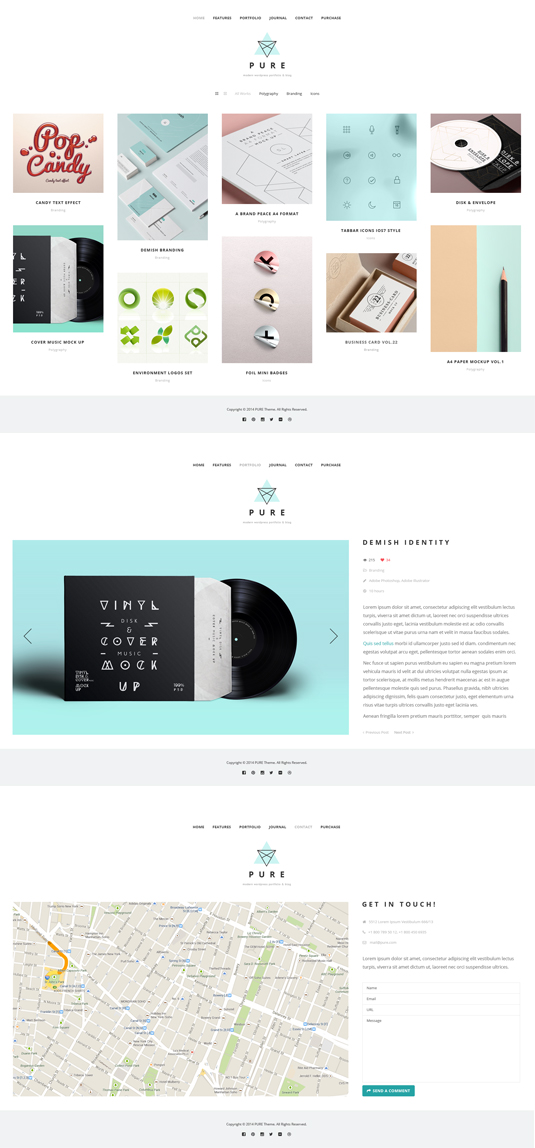 Ideal template for portfolios

Clean and minimal design

Simple to use

Different header options

404 and contact pages included

Retina Ready

Visual organization system by labels

Responsive
I am in favor of not using themes that include functionalities since these should be the work of the plugins, but I will make an exception with the Pure theme. If you know for sure that what you need is to show a portfolio and little else opt for this template since this work does it very well and in a simple way. If on the contrary you want to show your portfolio but in the long run you know that your web page will expand, it will grow and you will want to add more functions, opt for one of the topics mentioned in this post and a good portfolio plugin.
Public Opinion Lite is a free WordPress template specially designed by the CSS Igniter team for digital magazines, online newspapers, personal and business blogs. It has a free and paid version – Public Opinion, with many more features and interesting options.
In its free version, Public Opinion Lite offers support for the Elementor page generator. Upload your logo. It has custom modules. Supports multi-page articles. It offers spaces to include advertising. It is easy to customize.
Public Opinion Lite comes with a predesignated demo that you can install with a single mouse click. Your code has been optimized so that your pages load as quickly as possible. Your support is exceptional. Offer continuous updates. Bring complete documentation. It is optimized for search engines (SEO). It is ready to easily translate into another language. It is compatible with the most popular plugins: Advanced Custom Fields, Tool-set Types, Pods, WPML, Yoast SEO, MailChimp, NextGEN, WPForms, and more.
Ideal for blog and magazines

Different options to display the blog archive: masonry and list

M

odern, clean and minimalist design

Woo-commerce compatible

Sticky menu

Possibility of incorporating a modifiable Hero Section for call to action

404 Error Page Modifiable

"Back to top" button

Add widgets in the footer

Box at the end of the post with the author's biography

Responsive

A good template option if you want to set up a blog or digital magazine. It has a nice elegant and modern design and a way to show the blog to Pinterest. It allows you many modifications and the possibility of adding a nice "call to action" to the beginning of the main page.
Nozama Lite is a free WordPress theme from CSSIgniter for WooCommerce online stores inspired by Amazon. Fully customizable, easy to use and with a design adaptable to any screen size and type of mobile device. It has a paid version – Nozama that includes many more features.
This theme supports the standard WordPress – Gutenberg drag-and-drop editor, and includes the popular Elementor page generator (in its free version). Upload your logo. You are ready to translate to another language. And it comes with the contents of the demo with one click. Your support is premium. It is optimized for search engines (SEO). Offer continuous updates. It comes with complete documentation of installation and use. It is compatible with the most popular plugins: Advanced Custom Fields, Toolset Types, Pods, WPML, Yoast SEO, MailChimp, NextGEN, WPForms, and many others.
Ideal for blogs

Header and menu centered

Modifiable header image

The images take a lot of importance

Simple and elegant design

4 widget zones

It has templates to create full width pages

4 color schemes

3 widget areas in footer

Responsive
This topic has pleasantly surprised me. It is simple, clean and very functional.
If your intention is to focus your website to a blog this template is perfect for you.
Ideal for blogs or websites created as a magazine or newspaper

Different options for the header logo

Option to add a video in the header

13 widget insertion zones

Option to show header date

Show latest news alert

Social networks in the header and footer

Own widgets to show news

Sticky menu

Different page templates to define different structures

Woo-commerce compatible

Possibility of payment option

Responsive




If your website is going to be focused on the news as if it were a newspaper or magazine, this is your topic.

With its 13 zones to insert widgets and its own widgets to display the latest entries, you will have plenty of design options for your online magazine.
Created for online store

Responsive

Modifiable header image

Cart on the menu, like Storefront

Woo-commerce compatible

The Contact Form 7 plugin is integrated to create contact forms

404 error page built-in and modifiable

4 widget areas in footer

A clean, elegant and modern theme
A good alternative to Storefront if you don't want to use the same theme as always. It is designed for Woo-commerce and perfectly fulfills its function as a theme for an online store.
Zeen and minimal design

Simple and simple to navigate

Perfect for those websites that have just started

When the strong point is the content this template is perfect.

Because we must not forget that the content of a web page is king.

It is possible to modify it

Woo-commerce compatible

Responsive



Twenty Twelve is a free template that comes by default in the installation of WordPress and is one of the few that I have not deleted at the first exchange. It is perfect for when you have just started a project that is still in process and research and you don't know very well yet where you want to opt for.
Tips: when choosing your WordPress template:
Before finishing this post about free templates for WordPress, I wanted to give you some tips to choose the right theme. Why…?
Even if you think that choosing a template for your website is easy, the truth is that it is not a simple task. The template you choose may accompany you for several years and must be equivalent to the start of your project as when you grow up.
For that reason, here are some tips:
Find a template that is prepared for the type of project you are going to design: store, homepage, blog, portfolio, corporate website, etc.

Review the technical specifications, including SEO and loading speed.

Try that the template incorporates a visual editor or layout. Shaping your content will be much easier.

Another point to consider is the organization of the contents, especially for blog articles: grid, listings, full width post, with sidebar, etc.

If you have templates, demonstrations or designs, in my opinion it is much more complete.

Find a theme that incorporates an advanced customizer so you can adapt your brand to all its elements: buttons, galleries, header, menu, etc.

Finally, don't forget about its design features: grid layout, columns, sidebar, full width, etc.
C

onclusion:
The best WordPress template for your website doesn't have to cost and free templates can be as effective as premium options, and often provide most or all of the features you'll need. After choosing the right template, what follows is to make a blog in WordPress and start generating quality content.
Some of best free themes for WordPress day by day become more populairty. Here are given for WordPress in 2020 as Bonus Themes:
1) WPOcean
2) ColorMag
3) Neve
4) Shop Isle
5) Heista
In this post, we have discussed the importance of selecting a quality template for your site and we have detailed more than 10+ Best Free WordPress Responsive Themes 2020 to choose from.
Which of the free templates we have mentioned will be using to make your website? Let us know in the comments section!